Part of the series Maths Boxes.
View all products in this series
---
Maths Box Orange is a fantastic problem-solving resource that can be utilised by individuals or groups. It is written by very experienced Australian teachers including Harry O'Brien (Maths Plus), Steve Murray and Deborah Reinholtd, the 2012 Primary Maths Teacher of the Year.
Maths Box Orange has been written to assist other teachers address the rigours of the Australian Curriculum. It is a unique, multi-levelled resource that provides activities designed to improve the mathematical skills, strategies, knowledge, reasoning and problem-solving ability of students in Years 3 to 4/5. Maths Box Orange is a large, comprehensive resource that specifically targets problem-solving in the middle years.
---
Key Features
Suitable for Years 3 to 4/5
Allows for in-depth study of a topic by providing sets of graded cards developing the topic being taught
30 Australian Curriculum topic card sets addressing all strands of:

Number and Algebra
Measurement and Geometry
Statistics and Probability

Great for individualised learning, group or whole class instruction
Enormously varied and engaging content
Content grouped in sets for in-depth learning
Laminated cards that are larger than A4
Strategy and concept cards graded from 1 to 10
Diagnostic quizzes to assist teachers with assessments or pinpoint weaknesses
Provides easily found quality continuum or curriculum content
Useful for gifted and talented students
---
A Closer Look at Maths Box Orange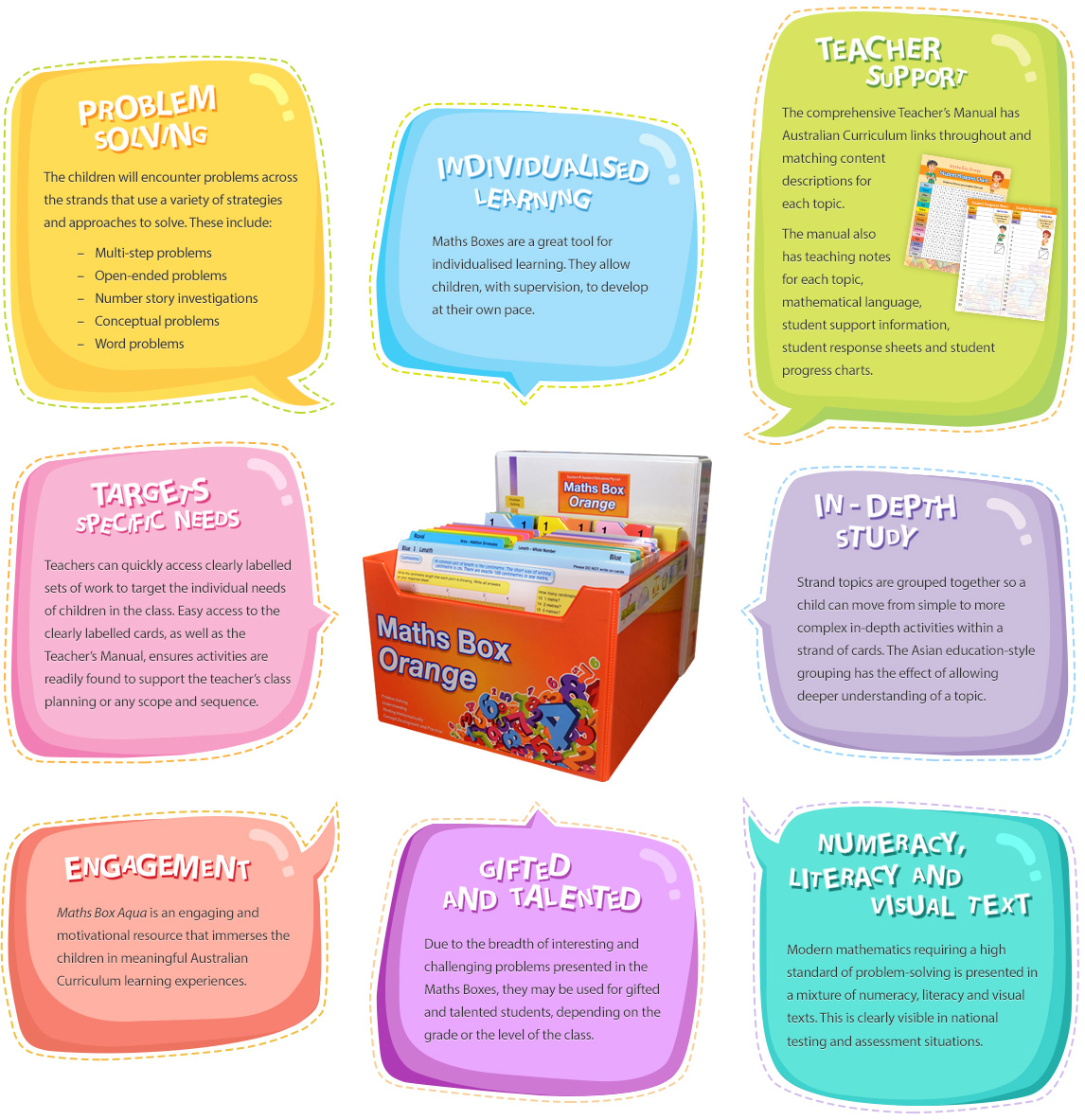 ---
Using Maths Box Orange

The teacher allocates each student a topic in the box to work on.
The student always starts on card 1 of the allocated topic. The cards must be completed in order of 1 to 10 as they are graded in a learning sequence.
The card is marked by the student.
The student fills in their personal progress chart.
---
Topics Covered in Maths Box Orange
Card Front
Length
Area
Volume and Capacity
Mass
Time
3D
2D Shapes and Transformations
Chance and Data 1
Location
Angles and Symmetry
Chance and Data 2
Number Story Investigations 2
Open-ended Investigations
Conceptual Problems
Multi-step Problems 2
Card Back
Whole Number
Addition Strategies
Subtraction Strategies 1
Multiplication and Division 1
Addition Written
Subtraction Written
Multiplication Written
Division Strategies
Fractions 1
Number Story Investigations 1
Multi-step Problems 1
Division Written
Fractions 2
Number Patterns
Fractions, Decimals and Percentages
---
Sample Card
Brown 5 - Location
Green 2 - Mass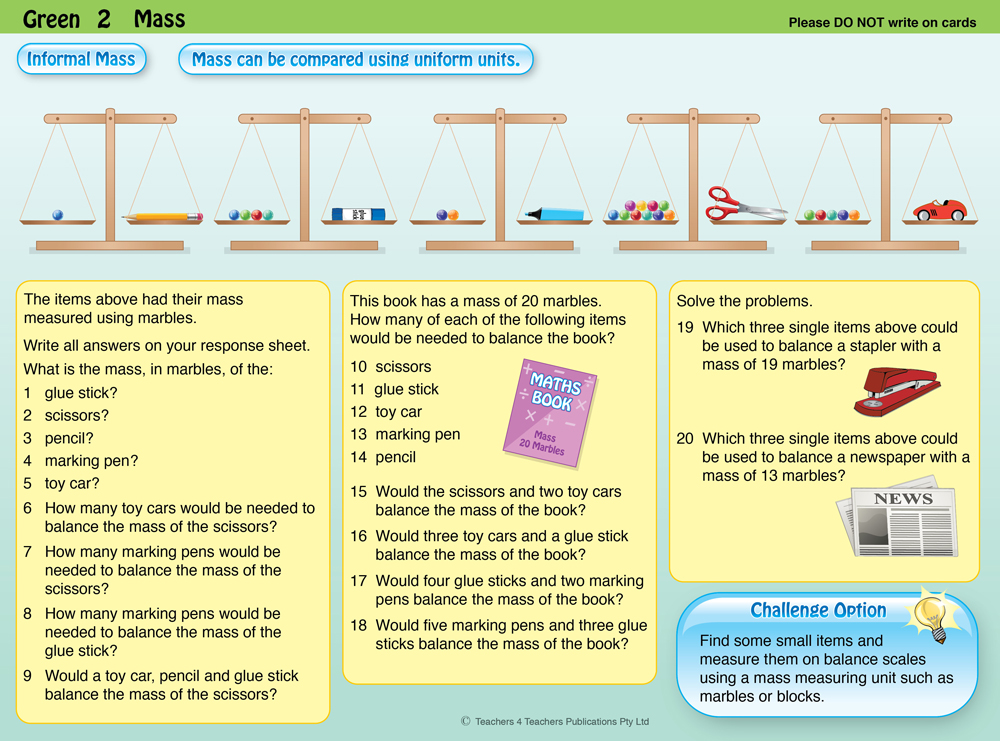 Olive 13 - Subtraction Strategies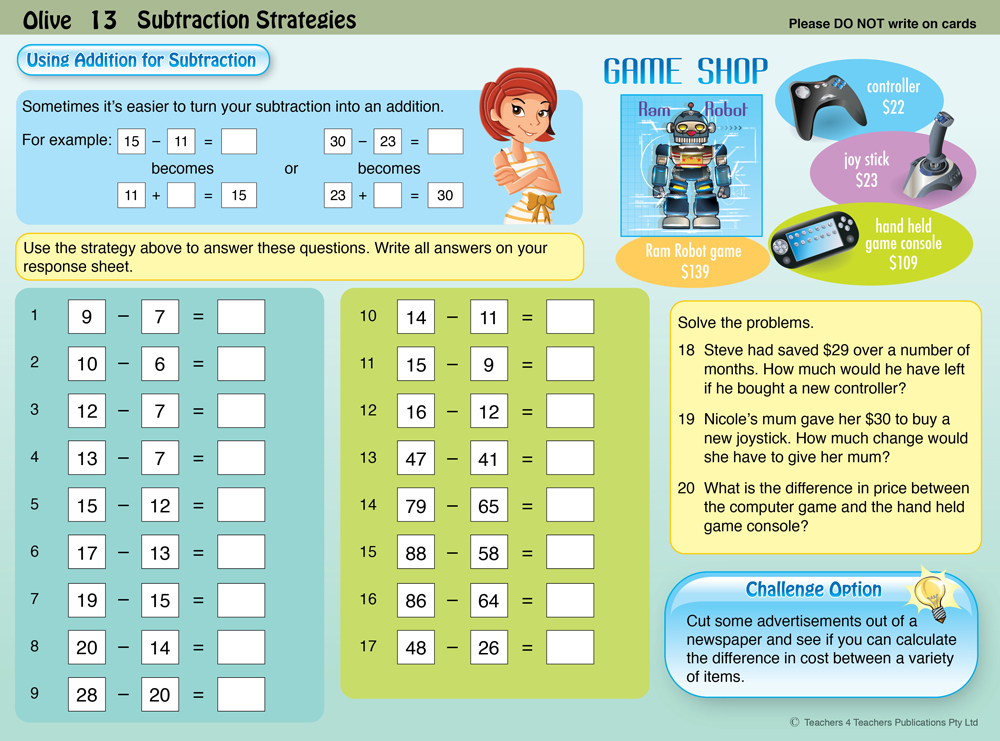 Orange 3 - Chance and Data 1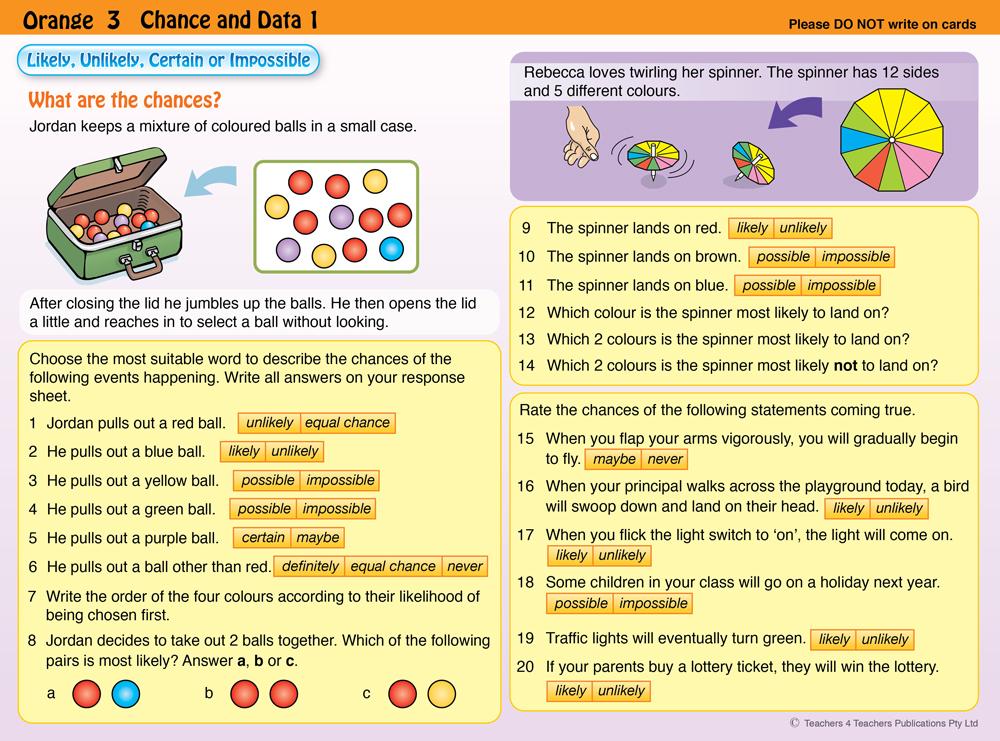 Red 2 - Number Story Investigations 2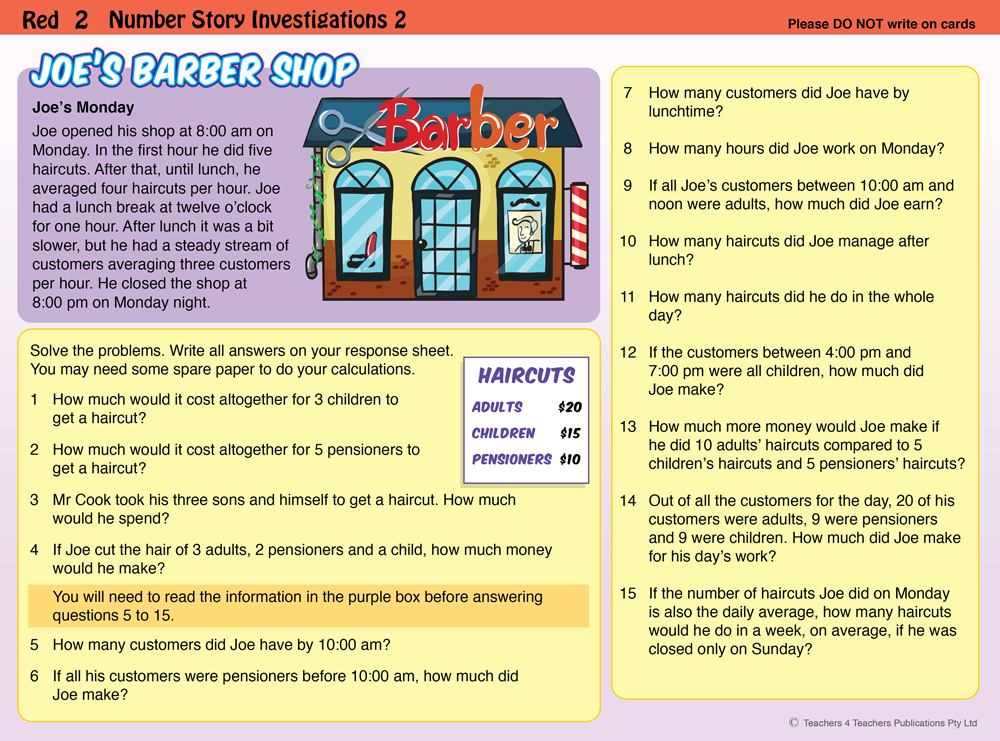 Violet 10 - Open-ended Investigations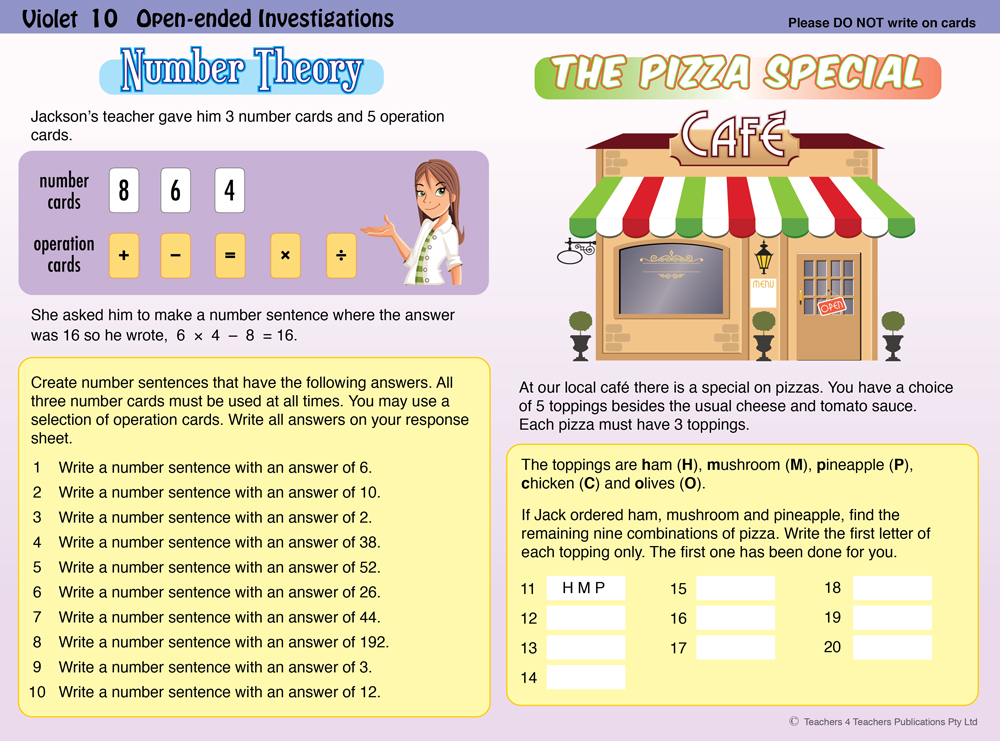 ISBN
9780987207142
Publisher
Teachers 4 Teachers
Product Type
Learning Cards & Boxes

,

Year Level
Year 3

,

Year 4

,

Year 5

,

Author(s)
Harry O'Brien, Steve Murray & Deborah Reinholtd
Be The First To Review This Product!
Help other Teacher Superstore users shop smarter by writing reviews for products you have purchased.
---
We Also Recommend
---
Others Also Bought
---
More From This Category