Lesson Plan: Christmas around the world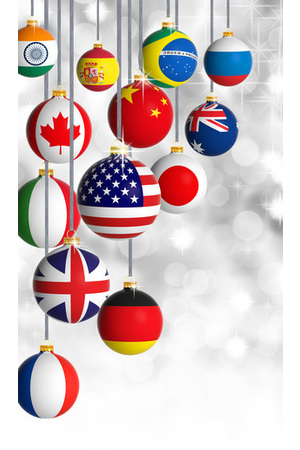 This lesson plan aims to increase student knowledge of Christmas culture and traditions around the world. It's suitable for teaching Lower Primary students.
---
Learning Outcomes
Increase knowledge of global awareness
Define key words - culture and traditions
Create your own Christmas symbols for each country
Reference web page: Christmas Cheer Around the World
Skill Development
This lesson is developing: Main Idea and Summarisation
Note taking
Technology
Non-fiction text layout understanding
Book awareness: Parts of a book
Publishing: The writing process
Fluency, vocabulary and comprehension
Materials
Computers or tablets for viewing the Christmas Cheer Around the World web page
Chart paper
Projector would be ideal
Crayons, coloured pencils, markers etc.
Construction paper
---
Introduction
Begin the lesson by bringing up background knowledge. Ask the children to share one thing about Christmas. You will have no problem getting them to share on this subject! Now that you have set the stage, show the class the Christmas Cheer Around the World web page. As you are pulling it up, use the proper technological terms and talk them through what you are doing to pull up the web page using key vocabulary such as search engine, URL, and favourites. It is never too early to begin developing technology and vocabulary. (Not to mention the little ones will love you talking to them like "big kids!") Teacher Note: This lesson pulls in three of the five Essential Components of Reading. Learn more about the Essential Components of Reading.
Teacher Input and Guided Practice
Read the web page to the children knowing some of the words may be tough; however, rigour and exposure can only enhance a lesson. As you finish reading about a country, stop and discuss what they learned from listening. Using the chart paper, make "notes" about what they learned. Use simple words and pictures. A great way to organise these notes and discussion would be using a circle map. Have the country's name and flag in the middle with the children's "notes" all around it. We recommend using one sheet of chart paper per country. We also recommend you only read and "take notes" on two countries maybe three at a time. You can choose the countries in advance or just break this lesson down over the course of a week.
Independent Student Practice
Once the children have some "notes" to view. They can put the notes to use. Have them fold their construction paper to form a booklet. The title of the booklet should be Christmas Around the World. Take time to discuss why this is an appropriate title. Ask them if "Kittens" would be an appropriate title... and why not? Each country can have it's own page. The page should have the country's name, the flag (a visual to tie the country to the word), and a symbol to tie Christmas to the country. The children could draw the pictures or you could have some clipart available for them to cut out and glue down.
Evaluation
To determine how well the children understand the concepts and connect the symbols to the countries, you can ask them to tell you what the pages in their booklet mean. You will easily be able to determine how much information each child retained. Essentially, you are checking for reading comprehension.
Please note: This free lesson plan is provided by Teacher Superstore and Mary Bown for non-commercial use by teachers in a classroom or home environment. All other uses are prohibited.
---
Leave a comment