Embrace Project-Based Learning: Unleashing Student Potential in a Real-World Context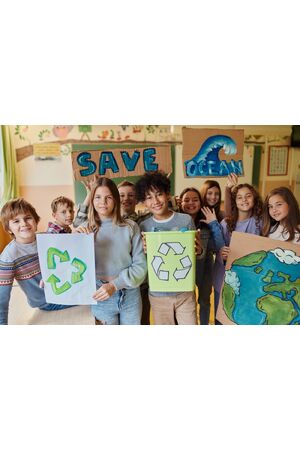 In the ever-evolving landscape of education, teachers continually search for innovative ways to elevate student learning. One approach gaining traction is project-based learning (PBL), a dynamic teaching method that encourages students to investigate real-world problems and develop critical thinking skills. Here at Teacher Superstore, we are passionate about empowering educators with the necessary tools and knowledge to make their classrooms vibrant hubs of learning, and PBL fits perfectly into this vision.
What is Project-Based Learning?
Project-based learning is an educational approach where students gain knowledge and skills by working for an extended period of time to investigate and respond to an authentic, engaging, and complex question, problem, or challenge. Rather than traditional textbook-driven instruction, students are given the reins of their learning, exploring topics that interest them within a real-world context.
Why Project-Based Learning?
The power of PBL lies in its ability to foster a multitude of skills. It develops critical thinking, problem-solving abilities, and boosts creativity. It also promotes collaboration, communication, and leadership skills as students often work together to achieve their project goals. Not to mention, it's a wonderful way for students to discover their passions and build confidence in their ability to tackle real-world problems.
How Can You Implement Project-Based Learning?
Choose a Real-World Problem or Question: This could range from local issues like designing a community garden or exploring energy conservation, to global topics such as climate change or food security. The key is to pick a problem or question that is relevant and meaningful to the students.

Plan the Project: Define the project's scope, identify the learning objectives, and plan out the timeline and resources required. Your students will need your guidance to understand how to approach the problem and where to start.

Investigate and Explore: Encourage your students to research, brainstorm, and collaborate to come up with potential solutions or answers. This is where our wide range of educational resources can come into play, providing your students with the tools they need to explore their chosen problem.

Create a Product or Solution: Have your students create a tangible product or solution to the problem. This could be a presentation, a report, a model, or even a community event.

Reflect and Evaluate: Once the project is completed, take the time to reflect on what went well and what could be improved. Encourage your students to share their thoughts and feedback. This reflection process is crucial for continuous learning and growth.
Teacher Superstore is here to support you on your journey to implement project-based learning in your classroom. We offer a variety of resources, from educational books and hands-on learning materials to STEM kits and stationery, that can facilitate your students' exploration into real-world problems. Our mission is to equip you with the best tools and materials, so you can empower your students to become curious, confident, and compassionate problem solvers. After all, the classroom is not just a place for learning facts and figures, but a launching pad for our future changemakers.
---
Leave a comment