Teaching Children About The Environment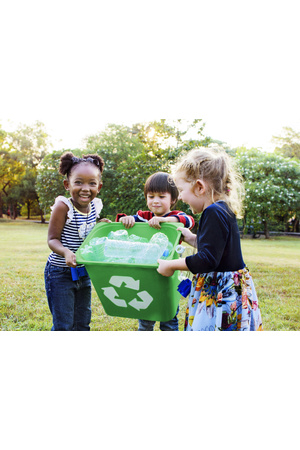 As parents, teachers, and carers, we want the best for our children – and a big part of that is providing a clean, liveable planet for future generations. Today's children will inherit what we leave behind, so it's essential for all of us to do our bit.
While caring for the environment an important topic to discuss with children, it doesn't have to be serious or boring. As children tend to learn best when they're entertained, we've collated some interesting activities, games, and books for you to enjoy with the children in your care. These resources will help them to develop a recycling-savvy mindset and an appreciation for the world around them.
Books
Games
Reduce Reuse Recycle board game
As children land on Reduce, Reuse or Recycle spaces they pick up a corresponding card containing an environmental scenario, such as reusing a plastic carrier bag as a bin liner. Pupils move forwards or backwards on the board depending on whether the scenario is positive or negative, helping children to become more environmentally aware and socially responsible.
Activities
While it's technically a book, Recycle and Remake provides creative making activities, information, and ideas that give young eco-warriors the know-how to really help the environment.

>

Have separate rubbish and recycling bins in your home or classroom and make recycling a habit. You can also get involved in recycling programs like Containers for Change and REDcycle.

Other organisations are making a difference in this space too. Bread Tags for Wheelchairs collects plastic bread tags to fund mobility aids for disadvantaged people. Lids4Kids collects plastic bottle lids to be turned into meaningful products instead of going into landfill.
Explore all Recycling products
---
Leave a comment