Putting together a successful parent-teacher conference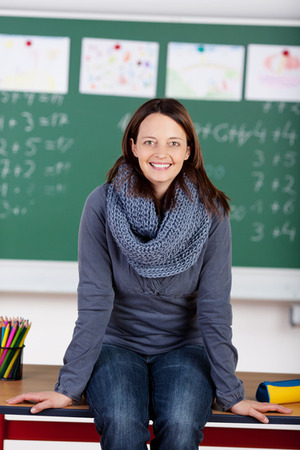 Children that do well in school tend to have constructive input on their education in their school and at home. Parent teacher conferences allow the adults to get on the same page in regards the progress of the child, as well as giving the parents a clear insight to the teaching methods taking place inside the classroom. As a teacher, it is your job to be organised and ready to meet with each of the parents, whilst also making them feel at home in your classroom. There are a number of great resources that you can use to get this information, such as the Beginning Primary Teaching book that highlights many of these tips, as well as some other great teacher information. Let's take a look at some of the basics you should consider when hosting a parent teacher conference:
Before the meeting
The first thing you need to do is make the parents are aware of the date and time of the conference. Even when it's put together by the school, it's still a nice touch to extend a personal invitation. One thing to keep in mind is when the child has parents who are divorced, as it is a nice touch to invite both. It's always a good idea to have times available in the afternoon and evening, just so that parents can fit the conference into their schedule.
Prepare a list of the strengths and weaknesses of the child and ask the parents to do the same. You should also have examples of their classwork, as well as a list of their current test scores and grades for the parents to review. You should have a definite plan of action in place that you think will benefit the child moving forward, including suggestions that you can offer that might help improve the performance of the child. That said, you also need to really listen to the concerns of the parents and discuss issues that they might have concerning the education of their child. They will be privy to his or her homework efforts and be able to offer insight that can help you plan accordingly.
There will likely be a lot of parents to see and points to discuss over the course of the day, but you never want to make any of them feel as though they are being rushed. Try to devote as much time as possible to each meeting, giving parents ample time to talk and ask the questions that they are sure to have. These types of conferences are often stressful situations for everyone involved, so make it your goal to put the parents at ease from the very moment they set foot in your classroom.
At the meeting
Creating a comfortable setting is a major part of a successful parent teacher conference. You want to create a feeling that you and the parents are in this together, so don't make them sit across from you at your desk, and arrange to have adult-sized chairs available for everyone. There is always a good possibility that younger siblings will be brought along, so create a separate space in the classroom with a few activities available to keep the little ones occupied while you talk.
It's also a good idea to have a few seats set up outside the classroom and a "conference in progress" sign hanging on the door when you are in a meeting. This will alert the next parents that they should wait outside, whilst giving them somewhere comfortable to sit. You might also consider having refreshments available, as parents can get a little dry-mouthed when they are nervous. Remember that the parents are essentially guests in your classroom, meaning it's up to you to act like the perfect host. Once the meeting is over, provide materials that the parents can take home for later review, which could include a calendar of school activities and notifications of future meetings.
Once you've welcomed the parents and offered them a refreshment, it's time to jump right in and get to the information. Yes, your time with each parent is limited, but taking that brief moment to make them welcome is crucial and can take a lot of stress and tension out of the meeting.
You should have your notes on their child prepared and ready to go, as well as the plan of action you've prepared. Deliver each of the points you want to make, but also allow the parents to talk after each point, taking notes on the input that they give you. It's also a good idea to provide them with pens and paper for taking notes of their own. The goal is to develop a positive plan of action for each child, and it's incredibly important that the parents feel that they will be an integral part of that.
Talking with parents about their child can be tough, as they may have a harder time seeing the weaknesses of their child. When pointing out those issues, try to do so in a way that is positive and tactful, yet which still gets the point across. Also be prepared to show how the plan of action that you have in place will help the child improve. If you can do all of that, most parents will defer to your professional opinion and agree to the decisions that you're making about their child.
After the meeting
When all of the points have been addressed and the time is coming to a close, don't simply shepherd the parents out of the room. You want to try and stick to the schedule as much as possible, but you also want to maintain that personal touch during each conference.
Those are just a few of the basics that will help you have a successful parent teacher conference, but if you want to get a little more in depth and learn more about the subject, be sure to read the great information found in Beginning Primary Teaching.
---
Leave a comment