10 Creative Ways to Thank Your Child's Early Childhood Educator!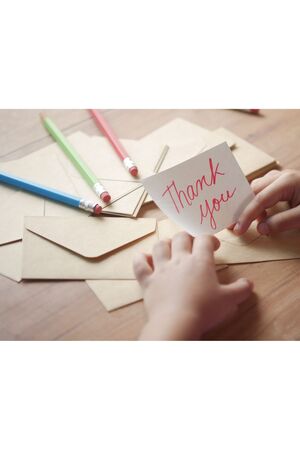 Hello, Fantastic Parents!
We all know how incredible early childhood educators are and now it's time to show them some well-deserved appreciation. Get ready to unleash your creative spirit with these 10 fun and thoughtful ways to express your gratitude.
1. Heartfelt Handmade Cards​​​
Encourage your little one to create a personalised thank-you card for their educator. Let their imagination soar as they draw, colour, and write a heartfelt message. It's a small gesture that will make a big impact.
2. Handmade Classroom Decorations
Get creative with your child and make handmade decorations for the classroom. It could be colourful banners, inspiring posters or even a gratitude-themed bulletin board. These personalised touches will make the space feel even more welcoming and appreciated.
3. A Book of Appreciation
Create a special book filled with messages of gratitude from the children and parents in the class. Each family can contribute a short note or drawing expressing their thanks. It's a heartfelt keepsake that will warm their heart.
4. "You're a Star" Jar
Fill a jar with little paper stars, each with a different message of appreciation written by your child. The teacher can pick a star each day and be reminded of the love and gratitude they receive from their students.
5. Create a Thank-You Video
Gather parents and children to create a heartfelt thank-you video. Each family can record a short message expressing their appreciation and compile the clips into a heartwarming video montage. It's a special way to showcase the collective gratitude of the entire class.
6. Handwritten Letters of Gratitude
Take a moment to write a heartfelt letter expressing your gratitude. Share specific examples of how your child has benefited from their educator's guidance and care. It's a meaningful way to show your appreciation.
7. Express Gratitude Through Art
Encourage your child to create a piece of art that represents their appreciation for their educator. It could be a drawing, painting, or even a collage using recycled materials. This unique artwork will be a heartfelt token of gratitude.
8. Creative Photo Collage
Collect memorable photos of your child's experiences with their educator and create a vibrant photo collage. Include snapshots from field trips, class projects and fun moments. It's a visual celebration of the wonderful memories they've created together.
9. Volunteer Your Time
Offer to volunteer in the classroom or during special events. Your involvement will show your appreciation and give them a helping hand. Whether it's reading a story, organising materials, or assisting during activities, your presence will be greatly valued.
10. Collaborative Art Project
Organise a collaborative art project involving the entire class and their families. Each family can create a small piece of artwork or a message of appreciation on a canvas or a large poster board. Combine all the individual pieces to create a beautiful mosaic or collage that represents the unity and gratitude of the class. Present the artwork to the educator as a heartfelt token of appreciation.
Remember, the most important thing is to show your genuine appreciation in a way that feels right for you and your child. It's all about spreading joy and gratitude to those who make a difference in your child's life.
---
Leave a comment