Best Selling STEM & STEAM Kits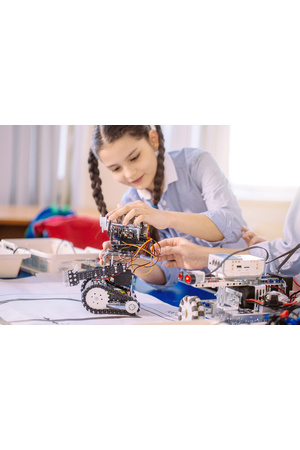 STEM and STEAM learning encourages children to develop invaluable critical and creative thinking skills, making them better at problem solving and applying their knowledge to different situations. The well-rounded interdisciplinary approach is also a closer reflection of the "real world" and helps to foster a love of learning, which they will benefit from beyond school.
STEM and STEAM kits are a great way to engage students with fun experiments and hands-on learning! Here are Teacher Superstore's best selling STEM and STEAM kits.
1. 14-in-1 Educational Solar Robot
Batteries not included – because they're not required! This amazing solar powered robot can be transformed into 14 different robot models.
Shop Now: 14-in-1 Educational Solar Robot kit
2. Discover Science – My First Electric Circuit
Introduce young learners to STEM and STEAM with simple electric circuits. This box set is filled with vivid images and scientific facts – a must have for children looking for new ways to learn and be entertained!
Shop Now: Discover Science Electric Circuit kit
3. KidzLabs - Magnet Science
The great KidzLabs kit contains a super magnet set that can be transformed to perform 10 fun experiments and games – from a super power horse shoe magnet or a magnet wand.
Shop Now: KidzLabs Magnet Science kit
4. Solar System Mobile Making Kit
Assemble the components of this kit to form your own solar system which hangs from the ceiling. It even glows in the dark and comes with a bonus wall chart.
Shop Now: Solar System Mobile Making Kit
5. Science: A STEM Approach
With Science: A STEM Approach, you can feel confident delivering a comprehensive and contemporary science program and preparing your students for the roles of the future! This series is aligned to the Australian Curriculum and allows students to build up skills such as innovation, creativity, reasoning and problem-solving; and technical science skills such as questioning, observing, systematic experimentation, and analysis and interpretation of data.
Shop Now: Science: A Stem Approach series
Do you have any tips for igniting students' passion for STEM and STEAM?
---
Leave a comment