Part of the series The Literacy Box Series.
View all products in this series
---
The Literacy Box Series provides supplementary materials to support the reading program of teachers, catering for the needs of capable, independent readers at each level in the classroom.
---
Each Box Contains
75 colourfully illustrated four-page cards, with texts covering a variety of genres and text types
15 colour-coded sections (in the same sequence as The Comprehension Boxes)
5 cards in each of the 15 sections, numbered (front to back) from 1 to 5
multiple-choice questions on three pages of each card
answer cards
teachers guide
---
Features
fully supports the English language curriculum
incorporates three levels of comprehension, word study and grammar questions in a multiple-choice format
assesses 12 different comprehension skills and pronoun references
features both fiction and nonfiction texts
includes cross-curricular activities
provides separate answer cards to allow the students to work and progress at their own rate
comprehensive teachers notes for each card with suggested speaking and listening, writing and viewing activities
---
Types of Questions
Comprehension A variety of questions test the student's ability to use specific comprehension strategies to understand texts.
Literal questions are those which can be found directly in the text.
Inferential questions are implied in the text and require the reader to think a bit more deeply about what has just been read.
Applied questions require the reader to think even further about the text and incorporate personal experiences and knowledge to answer.
Many cards require the students to relate pronouns to a noun in the text. Specific questions will assess the student's knowledge of this relationship.
All about words Multiple-choice questions about spelling, spelling rules, word building, word meaning, homophones and homographs are included in this section. Grammar Specific language features are defined to assist students to work independently to identify them and to make appropriate choices. Punctuation questions are also included. Something extra Extension work section focusing on writing production, research possibilities and activities that develop students' creative and imaginative skills.
---
Types of Genres
Fiction and poetry
science fiction
horror/supernatural
mystery
fables
fairytales
fantasy
folktales
plays
adventure
humour
poetry including limericks
myths
legends
other narratives, including poems
Nonfiction
reports
letters/emails
procedures
posters
expositions
descriptions
book reviews
explanations
discussions
retrieval charts
interviews
Recounts are used in both fiction and nonfiction texts.
---
The Literacy Box Teacher Guides
A comprehensive list of definitions in the teachers guide provides a clear and concise explanation of each genre. The teacher can choose to share these definitions with the class and encourage students to use this information to identify each genre used on the literacy cards.
---
The Literacy Box - Sample Cards
Box 1 - Sample Card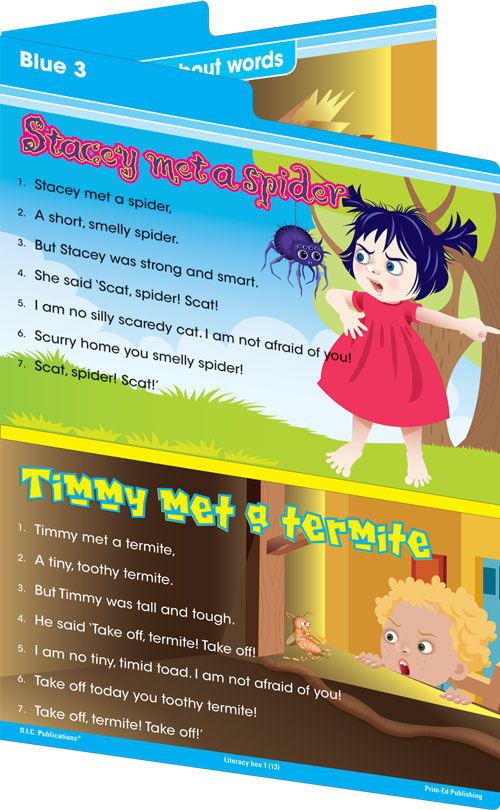 SKU
RIC-6930
ISBN
9781922116024
Publisher
R.I.C. Publications
Product Type
Learning Cards & Boxes

,

Year Level
Foundation

,

Year 1

,

Year 2

,
Be The First To Review This Product!
Help other Teacher Superstore users shop smarter by writing reviews for products you have purchased.
---
We Also Recommend
---
Others Also Bought
---
More From This Category