Part of the series Go Facts - Plants.
View all products in this series
---
Go Facts is the essential, nonfiction literacy series for your whole school.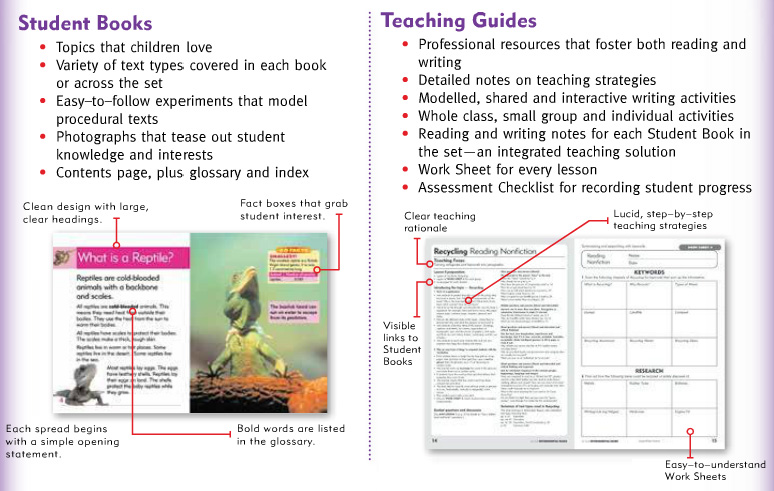 Go Facts sets deliver the clear, exciting and easy-to-read nonfiction your students need. As they move up through the reading levels, your students are guided from their own experiences to the wider world around them. Each Go Facts title is a model of coherent, integrated topic development, with concepts and ideas supported by fact boxes, photographs and illustrations. Go Facts introduces the structures and conventions of nonfiction writing, presenting models that are explored via activities in the Teaching Guides (sold separately).
View the Series List
---
Go Facts Plants - Flowers
In the book Go Facts Plants - Flowers, the teaching focus is on understanding the structure of an information report. Flowers attract insects and birds with their colourful shapes. Flowers attract people too. Many plants have flowers but what are they for and why do plants grow them?
Subject: Non-Fiction, Science
School Level*: Lower & Middle Primary
Reading Level: 22
Reading Age*: 7.5+ yrs
Word Count: 1200-1500
Broadband: G
Lexile: 630L
*Please note: School Level and Reading Age are a guide only.
---
View Sample Pages
Click on the images below the product image (at the top of the page) to view sample pages.
---
About the Series
The Go Facts - Plants series contains well-written, accurate and easy-to-read examples of the nonfiction text types - information report, explanation, procedure and description. Other nonfiction features include life cycles, labeled diagrams, experiments, a variety of tables, captions, labels and flowcharts.
---
Also Available in the 'Go Facts - Plants' Series
Go Facts Plants - Teaching Guide
This Teaching Guide contains teaching notes on reading nonfiction and writing nonfiction for each title in Go Facts - Plants. The lessons are structured in a way so you can implement the teaching of reading and writing information reports systematically.
View Go Facts Plants - Teaching Guide
---
Go Facts - Plants Set
Titles in the Go Facts - Plants Set
Go Facts Plants - Plants
Go Facts Plants - Trees
Go Facts Plants - Flowers
Go Facts Plants - Plants as Food
ISBN
9781865094595
Publisher
Blake Education
Product Type
Readers & Literacy

,

Year Level
Year 3

,
Be The First To Review This Product!
Help other Teacher Superstore users shop smarter by writing reviews for products you have purchased.
---
We Also Recommend
---
More From This Category