The Sheena Cameron Book Bundle collates five top-selling teacher resources by Sheena Cameron and Louise Dempsey into a convenient bundle. Each book contains a wealth of resources, guides, and further reading within a range of topics and subjects centred around literacy, including reading, writing, speaking, comprehending, and publishing.

For additional information about each book, including detailed chapter descriptions and CD contents, please click on the product images listed below.
---
The Writing Book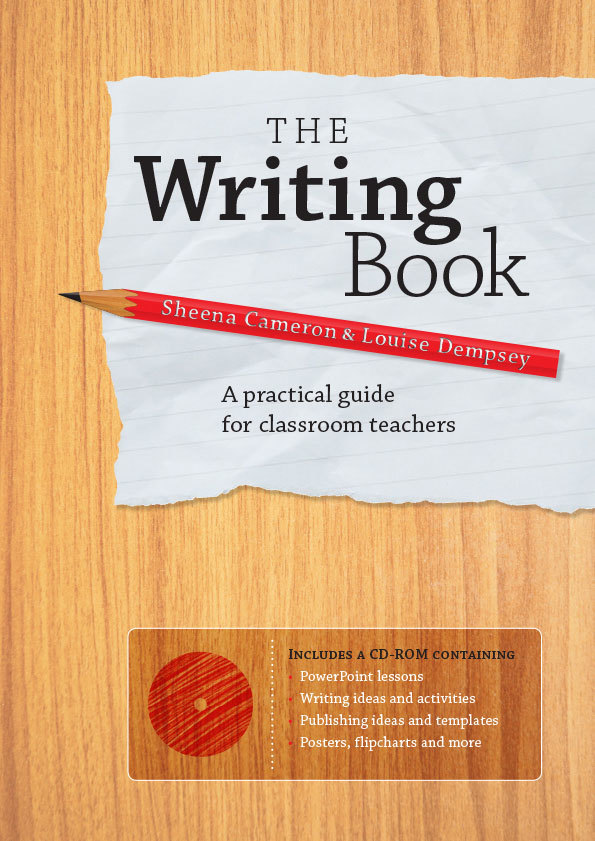 The Writing Book by Sheena Cameron and Louise Dempsey is a teacher-friendly guide to teaching writing at emergent, early and fluent levels. It includes practical information that will support primary and middle school teachers to plan and deliver an effective writing programme.
Contents:
Chapter 1: Introduction — guiding principles and practices
Chapter 2: The writing classroom
Chapter 3: Planning a writing programme
Chapter 4: Teaching the Skills Toolkit
Chapter 5: Teaching writing
Chapter 6: Reviewing editing and celebrating writing
Photocopy masters include:
(All photocopy masters are available on the CD-Rom)
Eleven writing planning sheets for different writing purposes
Four Quick Write graphic organisers
Five publishing templates
Support material for students
---
The Oral Language Book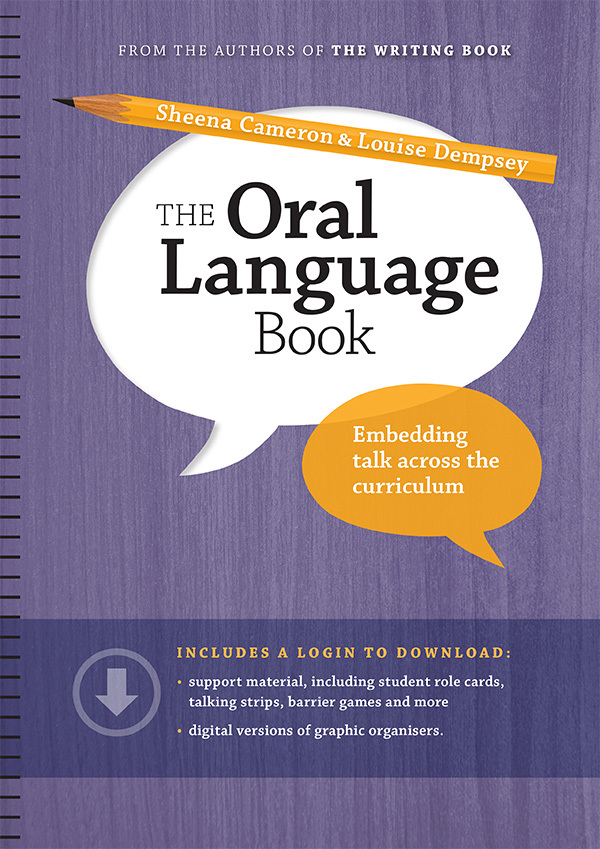 This practical book outlines strategies and ideas that will support teachers to include more quality 'learning talk' in classrooms and to embed purposeful oral language opportunities across the curriculum. It contains a summary of the latest research and presents ideas, activities and support material to translate this into classroom practice.
The Oral Language Book is a pick-up-and-use resource that includes a wide range of photocopiable and downloadable material, which can be used to support classroom teachers at primary and middle school levels.
Contents
Chapter 1: Introduction — guiding principles and practices
Chapter 2: The speaking and listening classroom
Chapter 3: Planning for vocabulary teaching
Chapter 4: Using drama to enhance oral language
Chapter 5: Developing listening skills
Chapter 6: Oral presentations
Resources
All photocopy masters are included in black and white at the back of the book (refer to page 139).
Home-talk
Many activities in the book are suitable to use as homework activities. These have been indicated with the Home-talk icon.
---
Teaching Reading Comprehension Strategies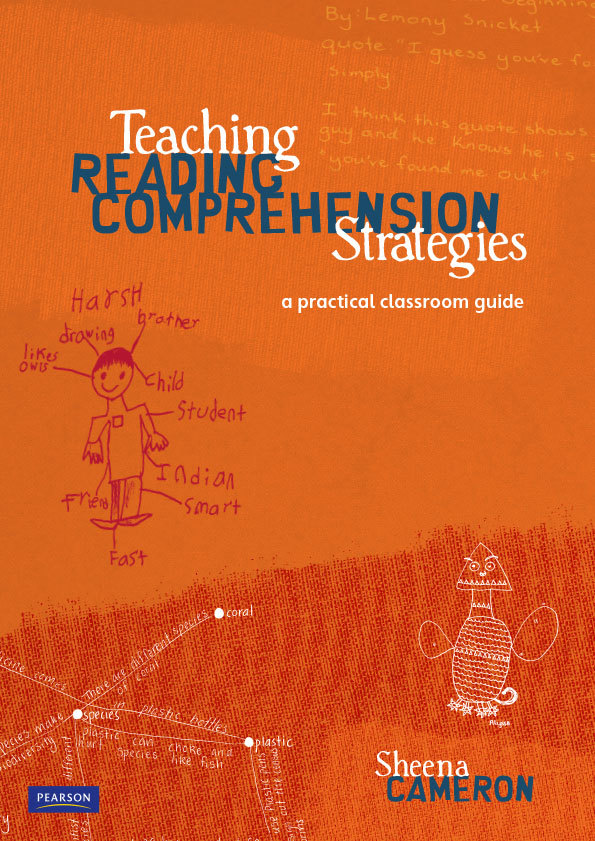 Teaching Reading Comprehension Strategies is a step-by-step guide based on the latest reading comprehension research and is the result of the author's learning journey into research-based practice and her experiences teaching in a real classroom. This book includes information on how to introduce and teach strategies and how they fit into your literacy programme. Each strategy has its own chapter, with:
an explanation of the strategy and how it supports comprehension
the language we use when using a strategy
guided and independent student activities that support teaching the strategy.
There is also an extensive range of teacher- and student-friendly support material, including strategy starter posters, photocopiable masters, bookmarks and certificates.
Teaching Reading Comprehension Strategies comes with a CD that provides all photocopy masters and support material in digital format.
---
The Reading Activity Handbook
The Reading Activity Handbook: Purposeful reading responses to enrich your literacy programme is a comprehensive collection of reading response ideas that includes 19 photocopy masters to support students' learning. It is designed for teachers at all levels of primary and lower secondary. Providing students with opportunities to engage in purposeful reading responses has many benefits including:
allowing teachers to work with individuals and small groups
creating opportunities to observe and monitor students' comprehension
providing authentic reading, writing, talking and creative experiences for students
producing quality work that students value
The responses in this book will benefit your students by:
providing opportunities for student choice, which increases student motivation and engagement
deepening levels of comprehension by requiring them to return to the text for different purposes
enabling them to make personal connections with literature
developing independence and positive self-image as a reader
---
The Publishing and Display Handbook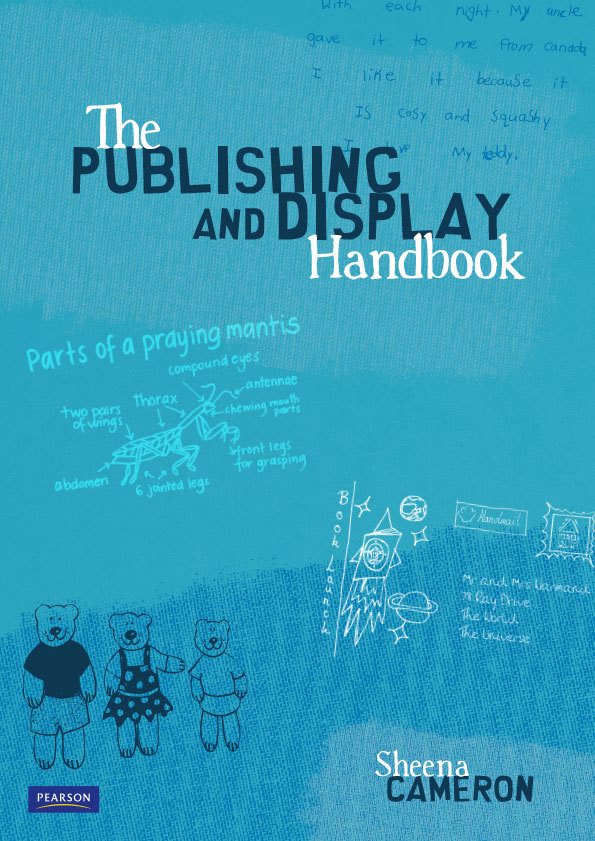 The Publishing and Display Handbook is a resource book full of information about the classroom environment, display and student publishing. The first part provides guidelines and ideas to assist teachers in creating interesting and functional classroom environments. The second part provides a reference of ideas for publishing and display formats to present students' work. These ideas can be adapted for use across the curriculum in a number of different contexts.
The Publishing and Display Handbook includes:
ideas to help create a well organised and interesting classroom environment
exciting ideas for classroom display
over 80 trialled formats to inspire student publishing
over 60 photocopy masters to support student learning and save teacher time
student information sheets and checklists to encourage independent learning
ISBN
SCB_Bundle
Publisher
Pearson
Product Type
Teacher Resources

,

Bundles & Packs

,

Year Level
Foundation

,

Year 1

,

Year 2

,

Year 3

,

Year 4

,

Year 5

,

Year 6

,

Year 7

,

Year 8

,

Author(s)
Sheena Cameron; Sheena Cameron & Louise Dempsey
Be The First To Review This Product!
Help other Teacher Superstore users shop smarter by writing reviews for products you have purchased.
---
You May Also Like
---
Others Also Bought
---
More From This Category