Part of the series Practical Experiments in Physics.
View all products in this series
---
Practical work has a definitive place in any Physics course. Performing an experiment and seeing a law of physics unfold in front of your eyes can have a profound impact on both students and teachers. Practical Experiments in Physics presents a range of Physics experiments in a self-contained format that senior physics students will find easy to follow. A logical layout inspires maximum use of experimental time with a clearly defined and achievable aim or purpose to each experiment. To assist with planning, a list includes the basic equipment necessary for each experiment but also allows for flexibility. The growing use of calculator and computer-based data-logging equipment means traditional equipment can be supplemented by new technology. A step-by-step method follows, allowing students to set up the equipment and rapidly begin collecting results. Practical Experiments in Physics presents experiments in a self-contained format with step-by-step instructions, diagrams and suggestions to the teacher, to ensure the experiment runs smoothly. Answers and expected results have been provided where appropriate.
---
Book 2
Topics included:
Using Voltmeters and Ammeters
Voltage Drops around a Circuit
Electric Currents in Circuits
Ohmic Resistance and Ohm's Law
Series and Parallel Circuits
The Capacitor
The Diode
Equilibrium, Static and Sliding Friction
Springs and Hooke's Law
Half-Life Simulation
Measuring the Speed of Sound
Variation of Sound Intensity with Distance
Water Temperature Curve
Specific Latent Heat of Fusion of Ice
Click on the image below to view the contents page for this title.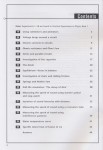 ISBN
9781865097060
Publisher
Blake Education
Product Type
Teacher Resources

,

Year Level
Year 11

,

Year 12

,
Be The First To Review This Product!
Help other Teacher Superstore users shop smarter by writing reviews for products you have purchased.
---
Others Also Bought
---
More From This Category