Go Facts - Geography: Teaching Guide (Lower, Middle & Upper Primary)
$31.45
RRP $34.95
SAVE $3.50 (10%)
Part of the series Go Facts - Geography.
View all products in this series
---
Go Facts is the essential, nonfiction literacy series for your whole school.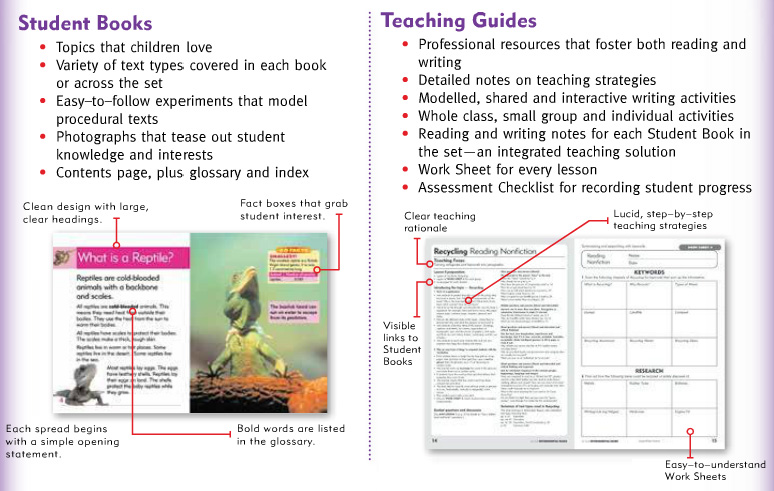 Go Facts books deliver the clear, exciting and easy-to-read nonfiction your students need. As they move up through the reading levels, your students are guided from their own experiences to the wider world around them. Each Go Facts title is a model of coherent, integrated topic development, with concepts and ideas supported by fact boxes, photographs and illustrations. Go Facts introduces the structures and conventions of nonfiction writing, presenting models that are explored via activities in the Teaching Guides (sold separately).
View the Series List
---
Go Facts Geography
Go Facts Geography integrates reading and writing with the study of geography. The books are ideal for use as part of a literacy program or teaching of the Australian Curriculum: Humanities and Social Sciences - Geography. This teaching guide includes teaching notes and student worksheets on reading and writing non-fiction for all 12 Go Facts Geography titles, spanning Lower, Middle and Upper primary levels.
Series Information
Series: Go Facts Geography Genre: Non-Fiction Reading Recovery Level: 1-31+ Year Level*: Foundation - Year 6 Reading Age*: 5-11+ *Please note: Year Level and Reading Age are a guide only.
Sample Pages
Click on the images below the product image (at the top of the page) to view sample pages.
---

Lower Primary
Maps explores the different types of maps, how they are made, and the concepts of direction and the compass points. The World introduces the basic geography of the globe, such as continents, hemispheres and countries. Places and Spaces explains the concept of place - how they have different features, how people name them, use them and connect with them. Land, Air and Water is about weather, seasons, and how people work with and care for the land.
---

Middle Primary
Australia is all about our country - its people, political geography and physical geography. Ecosystems is an overview of ecosystem types in Australia, South America and Africa, with profiles of plant and animal species on all three continents. People and the Land explores people's connections to the land and how we can work with it, not against it. Sustainability explains the concept of resource sustainability and how to reuse, recycle and reduce use of materials.
---

Upper Primary
Asia explores the diversity of our northern neighbours, with a focus on comparing the demographic profiles of Asia and Australia. First Peoples is an overview of the world's indigenous people groups and the issues they face. Reshaping Environments describes how people manage and change environments, sometimes disastrously - and how environments affect people. World Events describes how significant events connect Australians with other people on the planet.
---
About the Series
The Lower set asks students: How do people use maps? How can we describe Earth? Why do we behave differently in some spaces compared to others? What are the seasons like in different parts of Australia? The Middle set asks students: How do Aboriginal and Torres Strait Islander people relate to the land? What is sustainability and why is it important? Where were Australians born and where do they live? Why are plants important in our ecosystems? The Upper set asks students: How do Australians engage with Asia? Who was Eddie Mabo and what did he achieve? How has Australia been affected by fires and floods? How did Australia respond to the disappearance of Malaysia Airlines flight MH370?
ISBN
9781925194685
Publisher
Blake Education
Product Type
Teacher Resources

,

Year Level
Early Years

,

Foundation

,

Year 1

,

Year 2

,

Year 3

,

Year 4

,

Year 5

,

Year 6

,
Be The First To Review This Product!
Help other Teacher Superstore users shop smarter by writing reviews for products you have purchased.
---
Others Also Bought
---
More From This Category