Crafty Creations: 10 Exciting Felt Craft Ideas at Home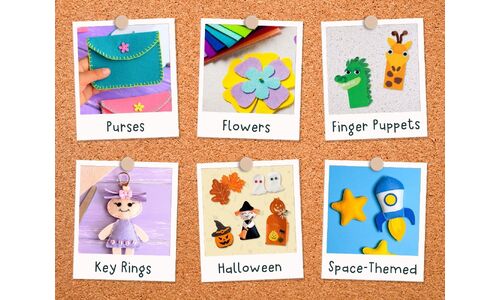 If you're searching for a fantastic way to unleash your child's inner artist and enjoy some quality time together, we've got just the thing – felt crafts! Felt is an easy-to-use material that comes in a myriad of vibrant hues, perfect for crafting all sorts of imaginative goodies. From charming purses to out-of-this-world space adventures, here are 10 felt craft ideas that promise hours of entertainment for your kids:
Felt Purses: Create mini fashionistas by designing felt purses with your little ones. Let them choose their favourite colours and shapes. Using needles and thread you can add buttons, beads, or even felt flowers as decorations. It's a stylish and functional craft!

Felt Flowers: Spring into creativity with felt flower-making. Teach your kids how to craft beautiful blooms using different felt colours. These flowers can be used as decorations, hair accessories, or even to adorn homemade cards.

Space-Themed Felt Adventure: Blast off into outer space with a space-themed felt craft. Create rockets, stars, planets, and astronauts for an intergalactic adventure. This craft is not only fun but also educational as it sparks an interest in astronomy.

Halloween Felt Fun: Get a head start on Halloween by making spooky felt crafts. Create adorable felt ghosts, witches, pumpkins, and black cats. These decorations can be used to spruce up your home for the holiday too.

Felt Key Rings: Craft personalised keychains with felt. Let your kids cut out shapes or initials, create from felt sheets and attach them to key rings. It's a practical craft that also makes for great gifts.

Felt Finger Puppets: Encourage storytelling and imaginative play with felt finger puppets. Craft characters from your child's favourite stories or invent new ones together. These puppets are perfect for creative playtime.

Animal Kingdom Felt: Create felt animals like lions, giraffes, or elephants. Use these felt critters to decorate your child's room or to play zookeeper.

Under the Sea Felt Scene: Take a deep dive under the sea with felt crafts. Craft colourful fish, seaweed, and even a felt octopus. Create an underwater world right at home.

Felt Bookmarks: Encourage reading by making felt bookmarks. Craft fun and colourful bookmarks that your child can use to mark their favourite pages in books.

Superhero Masks: Transform your kids into superheroes with felt masks. Let them design their own masks with unique colours and shapes. It's a fantastic way to inspire imaginative play.
Remember, felt crafts are not just about the end product; they're about the creative journey. Let your child's imagination run wild as they explore different colours, shapes, and textures. Felt crafts are not only fun but also provide valuable opportunities for learning and self-expression. So, gather your felt sheets, glues, scissors, and some crafty spirit, and embark on a felt-tastic adventure with your kids today!
---
Leave a comment